Super Pet Ferret Simple Sleeper, Hammock, Colors Vary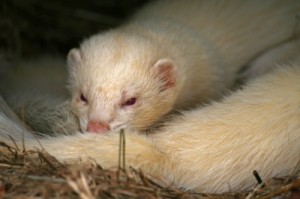 Ferrets like living spaces that are like their natural habitats that are warm and dark.  Hammocks replicate these conditions in the cage.  Hammocks help keep your ferret comfortable and warm, but are also open for good ventilation in warmer climates. While awake, your furry friend prefers to watch the action and they are also fun for ferrets to roll around and play in.
Super Pet Simple Sleeper Hammock is the perfect playtime accessory for ferrets and other critters that provides a comfortable spot to snuggle and nap after fun and play. The hammock comes with four strong clips so you can position and safely attach your hammock to any wire pet home. Hammock is made from a brightly colored, soft cotton fabric that is machine washable ensuring your friend will always have a clean place to snooze. Available in a variety of colors.