As an Affiliate, I may earn from qualified purchases.
I recently came across this nice corner ferret cage and decided to get it for a second cage for our ferrets.  It is a space saver, yet has lots of room for multiple ferrets. This cage is good for both ferrets and chinchillas.  It has lots of room for them to jump around and play and have a save environment to live.  We keep a few ferrets in this cage and they love it.  We also have a Ferret Nation cage that is very nice, but this one is great for smaller rooms and apartments.
We keep both cages in the same room and they fit fine.  It comes in really handy if one of the ferrets gets sick, we can isolate them in their separate cage until they are well.
You do have to put the cage together which is a bit tedious, but it is worth it in the end.
Prevue Hendryx 490 Pet Products Corner Ferret Cage, Black Hammertone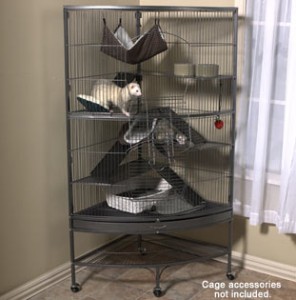 Space saving corner design offers ferrets or chinchillas plenty of room to roam
4 Ramps and 4 platforms are included
Castered base lets you move cage easily from room to room
Extra storage shelf can be used to hold toys, treats and more
39-Inch long, 27-inch wide, 63-inch high with 7/8-inch wire spacing