As an Affiliate, I may earn from qualified purchases.
Ferret Cage Odor Neutralizer and Cleaner That Really Works!   It is important to use a good quality cleaner for your ferret's cage with no harsh chemicals.  This cleanser cleans and permanently removes odor from cages, litter boxes and shavings. Made from natural non-toxic plant ingredients that are safe for pets, people and the environment. Eco-friendly, Continuous Spray.
WORKS ON CONTACT – Quick and easy to use. Just spray — no need to soak, scrub or rinse. Patented Encapsulation Technology and Advanced Eliminator3 Formula. PERMANENTLY ELIMINATES – Cleans and eliminates the source of the odor —permanently.

Love your Ferret, Hamster, Gerbil, or Rabbit, but hate the odor sometimes lingering around them? Then we are pleased to bring you the newest natural approach to odor control.
Clean+Green is not an odor "cover up".
Cleans plastic, glass, metal and wood surfaces with just a few sprays. Its natural plant ingredients work safely on and around all living things. Hypoallergenic Fragrance Free No Essential Oils No Oxidizers No Isopropyl Alcohol No Solvents of any kind No Petroleum Ingredients.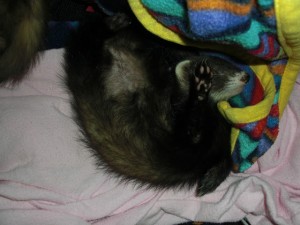 Tips and Tricks
To get rid of odor after you have cleaned out their cage, use Clean+Green on the plastic base and wire of the cage and wipe thoroughly. This non-toxic, nonflammable product is safe for ferrets while eliminating any odors and residue from messes on the cage.
No need to soak or scrub. Just make sure the product comes in contact with problem source.
For best results: Turn nozzle to face the black dot on the can, and keep can upright when spraying. Spraying the can at an angle greater than 60° without the nozzle pointed to the black dot may release all the propellant and cause the can to stop spraying.